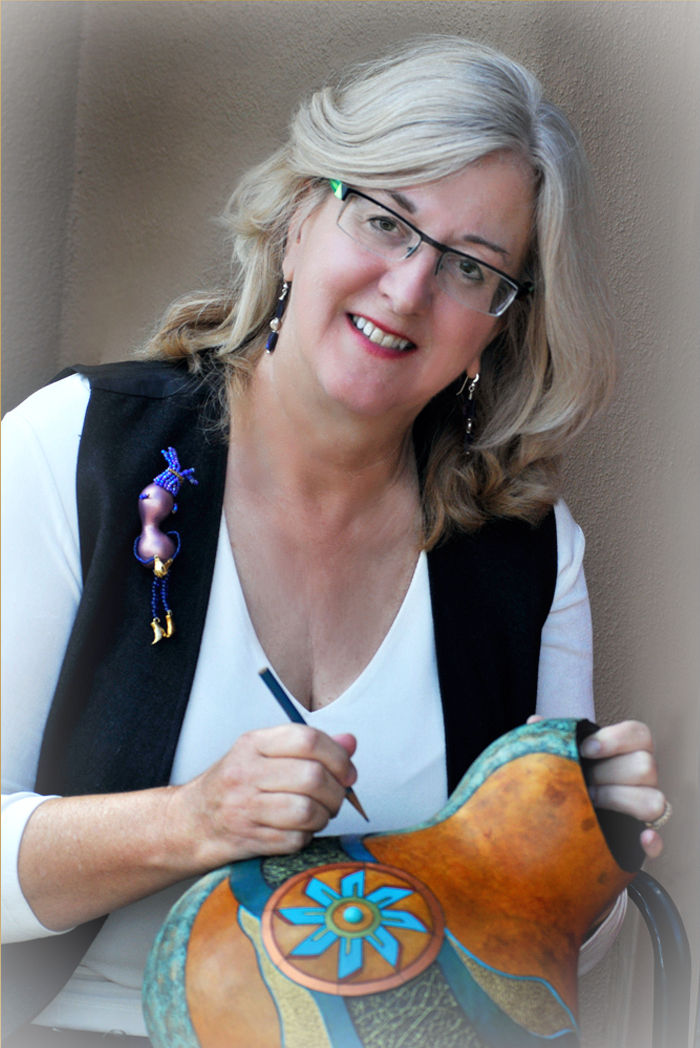 "My studio is like a living collage, full of bits and pieces of treasures from thrift shops and yard sales, from birds and critters and of course from the desert. Layers of dried cactus spines, antlers, bones, sticks, gourds, paint, paper, stamps, inks, dyes … all a source of inspiration for my gourd and egg creations, layered and collaged until they are transformed into … something entirely new!"
Karen has taken her preferred mediums of Fine Art Gourds and Faberge Eggs to a professional level through her exploration of the techniques of painting, carving, pyrography and embellishing, along with her creative sense of design.
Fine Art Gourds
Concentrating on creating art from gourds requires mastery of quite a few skills; not to mention requiring quite a few gourds. Karen makes annual excursions to gourd farms in Arizona and Southern California to select the gourds that will best serve as her 'canvas'. "One of the things I like about working with gourds is that each gourd has its own personality. I evaluate to see how that gourd can best be utilized with respect to its character and my own vision of how to bring out its hidden qualities." says Karen. When the design process begins, Karen creates a pencil sketch on the gourd. She then brings her design into sharper focus with burning and carving tools. For color, Karen utilizes a broad palette of dyes, inks, acrylics, oils, watercolors and colored pencils. For texture: beadwork, precious stone inlay, metal conchos, seeds and natural objects such as antlers and prickly pear cactus lace (fiber) locally harvested on her properties in the desert and in the mountains are used to embellish and enhance the basic gourd design.
The pop and wow factor in the design comes with these natural objects used to create unusual textures. Recently, Friend has explored a technique of faux beading using a small wood-burned grid where tiny dots of color are applied, simulating beading seen in Native American belts and war shirts. Both cactus "lace" and faux beading figure prominently in her new series.
Faberge Style Eggs
While working at the Cave Creek Museum in Arizona, Karen was first introduced to the world of egg artistry when she took a class in the fall of 2007 being taught by co-worker, Fran Hunold. Her entry to the 2008 White House Easter Egg Competition was only her second attempt at egg decorating. Her piece entitled "Monument Valley in an egg" was selected to go the White House as the design to represent the state of Arizona. Subsequently, she met and had her photograph taken with First Lady Laura Bush and toured the White House. Her piece resided in the White House collection and is to become part of the Bush Presidential Library.
In 2009, once again she designed a winning entry entitled "1870 Western Street Scene" and was asked to represent Arizona at the White House and meet First Lady Michelle Obama. Karen delights in the discovery of having found another way to express her artistic temperament through this medium, and the networking of meeting other egg artists.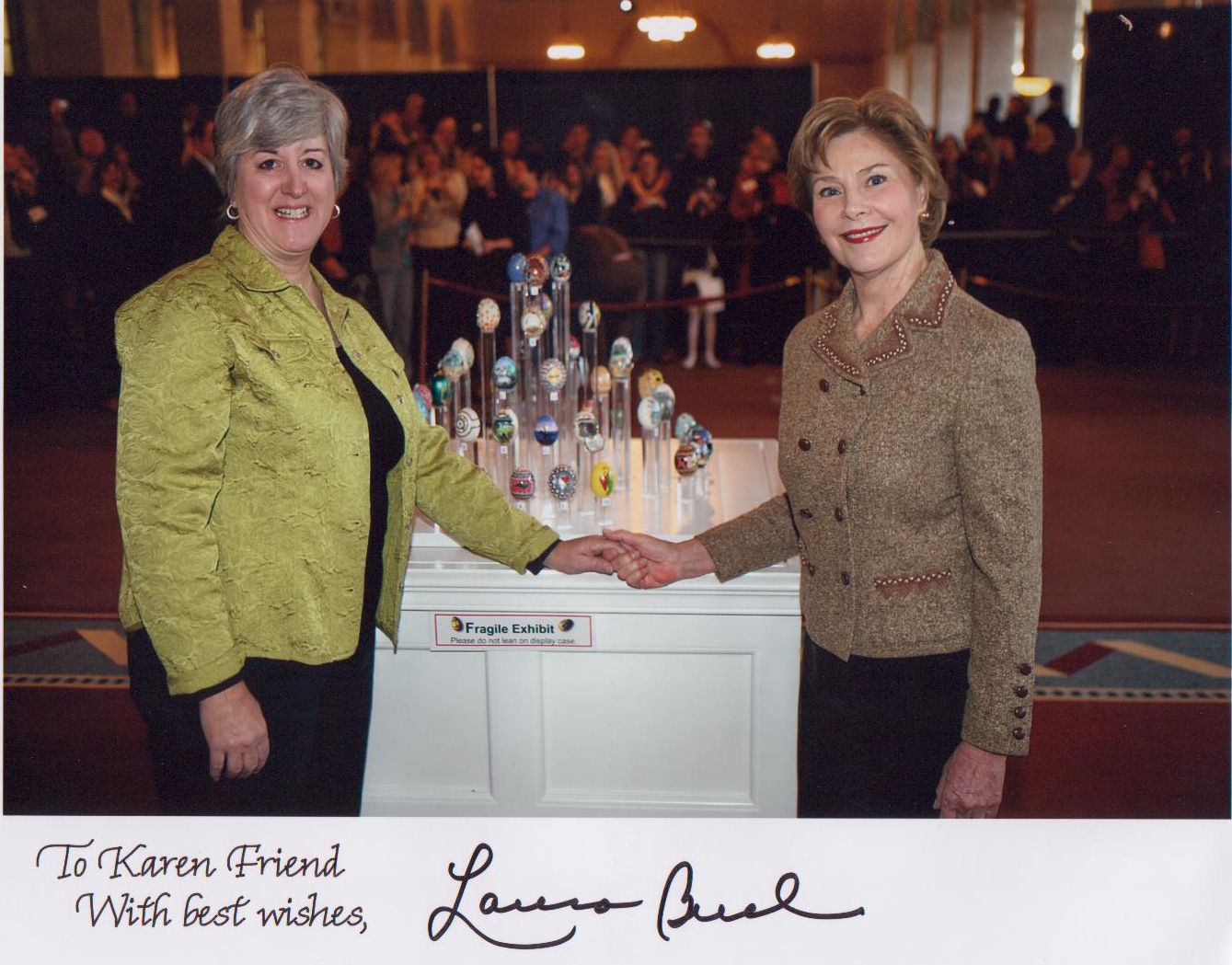 Karen studied Art at Allegheny Community College in southwestern Pennsylvania in the 70's and received a MFA from the University of Chicago in Illinois in 1977 before being caught up in the corporate world of identity branding in the sign industry and printing industry for 25 years.
Then after buying and remodeling a B&B in Arizona in 2002, she and her spouse, Roger, spent five years in the hospitality industry being owners and operators of the inn. In 2007, Karen and Roger decided it was time to reclaim their privacy. After selling their B&B, the couple moved to New River, AZ and Karen found time to immerse herself back into the arts again. She began pursuing her work in fine art gourds and egg artistry.
Karen spends time with her fellow artisans in the Sonoran Arts League, Southwest Gourd Association and the Arizona Gourd Society. She has chaired the Sonoran Arts League's Hidden in the Hills Studio Artist Tour and Sale in 2010 & 2011, an annual event involving over 150 artists in an open studio setting during the month of November.
Since 2015, Friend has promoted the Arizona Gourd Society by taking a lead role inviting nationally recognized gourd artists to submit a piece for the Grand Master Exhibit at Casa Grande's Wuertz Gourd Festival where competition entries are on display. More than 12,000 visitors attend the annual "Running of the Gourds" Festival in Casa Grande each February, contributing to its reputation as one of the best artistic gourd events in the United States.
Affiliations
American Gourd Society
AZ Art Alliance
AZ Gourd Society
Cave Creek Museum Gift Shop
Kerr (Texas) Arts & Cultural Center (2014 to present)
Sonoran Arts League (Board of Directors 2012 & 2013)
Southwest Gourd Association (Past President)